Bespoke 1:1 and small group tutoring
online and at your home in Brighton & Hove
for children and adults of all ages
by an experienced and qualified teacher who really cares.
Tuition that goes beyond the lesson: I provide support, resources, immediate feedback.
Enhanced DBS Check, references and CV available on request.
Outstanding Personal Tutor Award Finalist 2021.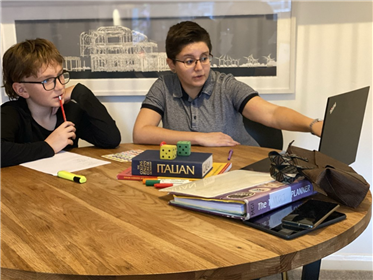 Watch a FREE taster lesson here:

I value consistent communication and customer service,
which is why my clients always comment on how easy it is to get in touch with me and discuss their progress outside of lesson times.
As a regular client of Tina The Tutor, you will benefit from all of this:
Online and face-to-face:
Contact me outside of lesson times to discuss progress & any concerns!
A bespoke and engaging lesson!
Clear targets and immediate feedback on those targets.
Positive atmosphere in line with Tina The Tutor's values and philosophy.
Homework and next steps are clearly outlined.
A Scheme of Work (curriculum) and a continuous assessment of needs is updated and shared.
Option for a Reward Chart and Certificates for primary school children.
Access to online resources library.

Photographs featuring Xan by Boo (thank you both!)